Benefits of DISC INSUNRISE-based solutions
INSUNRISE ® Inc. credo simple and clear:
We only succeed when you succeed!
Customer trust in us lies in the fact that they note a consistent improvement in the quality of INSUNRISE services and products, coming from the hard work and commitment of our researchers.
However, the most convincing argument, perhaps, is the practical effect of using our tools and technologies.
It can be digitized by calculating the benefit and calculating the economic benefit specifically for your organization.
We keep bureaucracy to a minimum for our customers
by using our time efficiently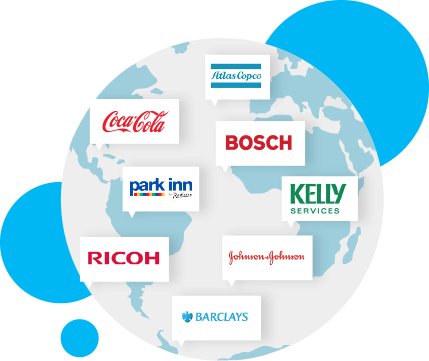 Our clients
Accuracy of measurements
The DISC model, which most of the INSUNRISE ® tools have been created from, has been certified by scientists and specialists as one of the most sensible, accurate and comprehensive models available on the world market today.
The assessment tools developed on the model are recognized as valid and suitable in more than 90 countries worldwide, which, without a doubt, testifies to their universality and as a reliably proven tool used by both the world's largest companies and small organizations.
Our clients
Easy to use
ASDI ® uses only simple, easy-to-understand expressions presented in INSUNRISE reports as a list of key phrases or visual scales needed to describe Individual behaviours
or Positions.
INSUNRISE reports, produced by ASDI ®,is a finished product. Their terminology can be understood by people who have graduated from high school, and does not require additional interpretation, special adaptation of terms or a degree in psychology. Reports help thousands of people better understand themselves and others, and formulate answers previously perceived only at the level of intuition.
Reports can serve as a guide to action based on a development plan, a kind of instruction for successful interaction with people.
DISC report package
Only 1 day needed to get to know
the methodology!
DISC method is a synthesis of knowledge about a person and a very simple method for assimilation and everyday use.
Its benefit is that ASDI ® uses only simple, easy-to-understand expressions, presented as a list of key phrases or visual scales, necessary to describe individual traits of a Person's behavior or Position. In order to begin to consciously apply it at the basic level, just one day of training is enough.
We have come a long way to make this possible. The main merit in rethinking and developing a set of stored knowledge about people is down to William Morton Marston and his followers, a group that we indeed consider ourselves part of.
It is fair to say that the DISC method is multifaceted and virtually inexhaustible in its potential. Access to its professional and fundamental development provides only expert immersion in all the nuances of DISC theory and practice.
We in INSUNRISE Psychometrix Inc., offer nobr>first-hand information directly from the assessment tools developers based on DISC theory.
Management
and development in organizations
INSUNRISE® tools and solutions can be applied effectively in the context of organizations, not only at the level of HR specialists, but also directly in the field, to managers and employees as a means of resolving a wide range of issues from management to development.
With the reports, you will be able to form a vision of how to develop entire teams and how to better distribute roles in a team.
There is a perception that teams are made up of the leaders, followers and slowcoaches who hinder the work of employees. This can only be considered fair where there is no clear understanding of who should be doing what. So — called «followers» or «slowcoaches» are not necessarily doomed to be like that for life and are not necessarily subject to dismissal.
Find a new resource
at your fingertips!
A closer and more objective look at the balance of forces in a team against the requirements of official positions can really offer, on the one hand, a thought-provoking or even a depressing picture of the situation; and on the other, offer an inspiring understanding of how to conduct the orchestra as well as how to tune it up better.
Accurate understanding can be achieved with the help of INSUNRISE diagnostic tools. They are designed and thought-out
Ask us, where to start
Reduce time wasting
Complete behavioral certification of employees is carried out in a few minutes and does not require time off work.
It takes an average of 10 to 12 minutes to complete a DISC questionnaire. A questionnaire itself is constantly protected from manipulation and allows you to identify the Natural and Adapted (Masked) behavior of test takers.
About the method
Privacy policy
INSUNRISE Psychometrix Inc. is guided by international standards of processing and storing personal data.
We guarantee full confidentiality of processing and storing personal data and privacy of information on our servers and in the ASDI System.
You have the opportunity to encrypt, hide or not use the data for maximum confidence and reliability of our customers.
INSUNRISE Inc. privacy policy
Best price
Our company's policy is to provide our partners with the highest quality products and solutions.
Equally important is the guarantee of best prices for a range of products and services compared to similar products from other providers.