INSUNRISE Report Package
INSUNRISE Psychometrix Inc. — is a developer of online psychometric tests and HR-tools, which are widely used by a diverse range of companies and are intended to measure the explicitness of personnel's professional and personal competences. Among INSUNRISE Psychometrix Inc. key objectives there are also talent detection and management, the creation of motivation system, personnel development and selection.
The foundation for the INSUNRISE Assessment System is built upon the DISC method and other cutting-edge HR-techniques.
It will take you only 10 minutes to fill in the questionnaire
Based on your answers in the DISC questionnaire the ASDI system will automatically generate and within seconds e-mail you various types of individual reports which will help you solve a wide range of problems.
INSUNRISE assessment tools lead people to success both in work matters and personal life.
2 tools – many options for tuning
ASDI includes two major tools based on the DISC typology.
They operate according to the same criteria.
Questionnaire
DISC Personality Profile
Measures the behavioral styles and competences of assessed individuals. Based on this questionnaire the system generates a vast range of individual reports.
Questionnaire
DISC Job Profile
Is intended to describe and analyze the key job competences and their further correlation with the competences of particular employees.
Learn more about the tools
INSUNRISE Report Types
Personalized electronic reports, generated by ASDI system ®, offer to company's management and employees a precise graphical and verbal analysis of their behavior, competences, strengths, development trajectories and provide individual guidelines. We offer practical information accessible to people unfamiliar with the DISC method.
Take a look at report samples
We have considered all options so that you
could choose something that works for you personally
INSUNRISE®
Exclusive Reports
( Reports' Compiler)
If you wish to try on the hat of an explorer and take on control over the outcome of your actions, then the option of Exclusive Report generation is intended specifically for you. It means that we offer you an absolutely exclusive option – to build up a report of the most well-balanced configuration which will meet all your requirements!
From the extensive list of more than 40 thematic chapters available in the ASDI system, form your own type of Personal Profile or Job Profile.
Just select the necessary chapters and save your Exclusive Report! It is very convenient!
Learn more
INSUNRISE®
Fixed Reports INSUNRISE®
You may take advantage of carefully selected reports with fixed structure, the so-called Fixed Reports, categorized by topic:
Learn more

Practical Application of INSUNRISE Products
DISC INSUNRISE Assessment System ® — ASDI ® — generates
individual reports aimed at tackling diverse
goals of an organization.
Learn more
Over 40 themed chapters
Ask yourself a question, what type of information you require most? What type of information you are most receptive to?
Texts? Scales? Graphs?
We have all of these options at your disposal.
Compile your unique report:
1

Are comprised of coherent, concise phrases accessible to non-specialists.

2

A precise evaluation of specific competences on the scale from 1,0 to 10,0 referred to natural and adaptive behavioral styles.

3

DISC graphs are the starting point for all interpretations and entail crucial information for DISC method experts.

INSUNRISE Rose Diagram — allows to visualize Personal Profiles as well as Team and Job Profiles within one field. Thus, we gain insight of team's dynamics and can draw conclusions on the following:

Compatibility
Personnel reshuffle
Potential conflicts
Employee's development trajectories
Conduct team's SWOT analysis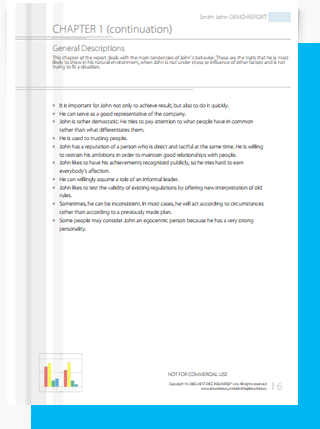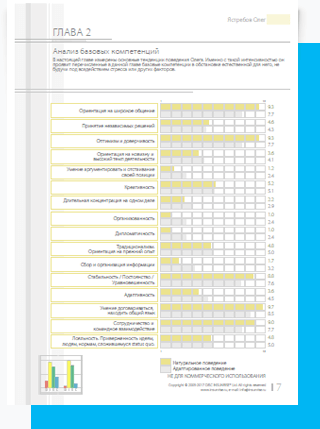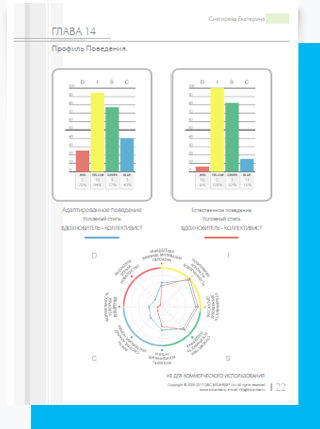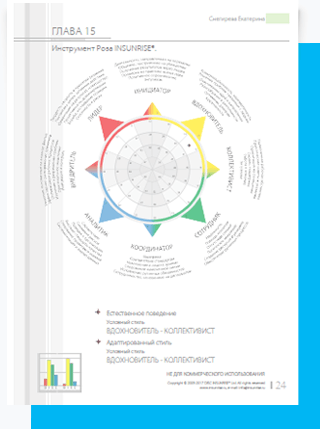 Observations Based on Objective Criteria
The System determines the intensity of a certain competence on the scale from 0,0 to 10,0 and subsequently correlates it with the corresponding competences required for the Job with an aspiration to highlight overlaps and development trajectories.
The ASDI interface groups competences according to their themes and Chapters, which comprise the INSUNRISE Reports. Our Chapters offer scales both for Natural and Adaptive behavioral styles of employees.
Learn more on the options of behavioral styles evaluated according to DISC
Competences are not abstract and are linked to assessment criteria. We visualize and correlate 3 crucial for analysis information blocks:
What is a person like when he/she behaves Naturally
At what cost he/she adapts to his/her work or life environment
Share the Report Results with your Employees
We believe that Behavior Style Reports play a developing role and, therefore, may be and must be shared with employees, who take them. Information is presented in a way that helps to improve cooperation between staff members and executives based on the insight of behavior patterns and preferences of both parties. Reports' language is utterly correct and discreet.
The goal is to improve employees' performance on various levels of day-to-day communication – between staff members, between executives, between staff members and executives, with clients.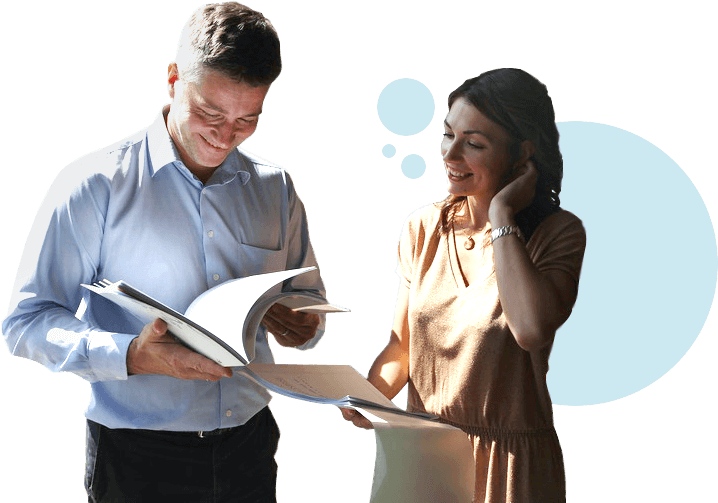 The Formula of Personal Efficiency
The realization of one's strengths and limiting factors distinguishes the most successful people.
The ability to use efficient communication strategies may add to your success both in work and private life. Whereas negligence of one's behavior manner often leads to tension, serious disappointment and long-term failure.
Efficient interaction with others first of all begins with detailed self-analysis, thorough understanding of one's own behavior manner.
Next step is the identification of other people's behavioral style.
And finally, the formation of the best communication strategy for particular individuals would be the key achievement.